HyperChrome Ash Barty Limited Edition
Ash Barty and Rado turn to art to help wishes come true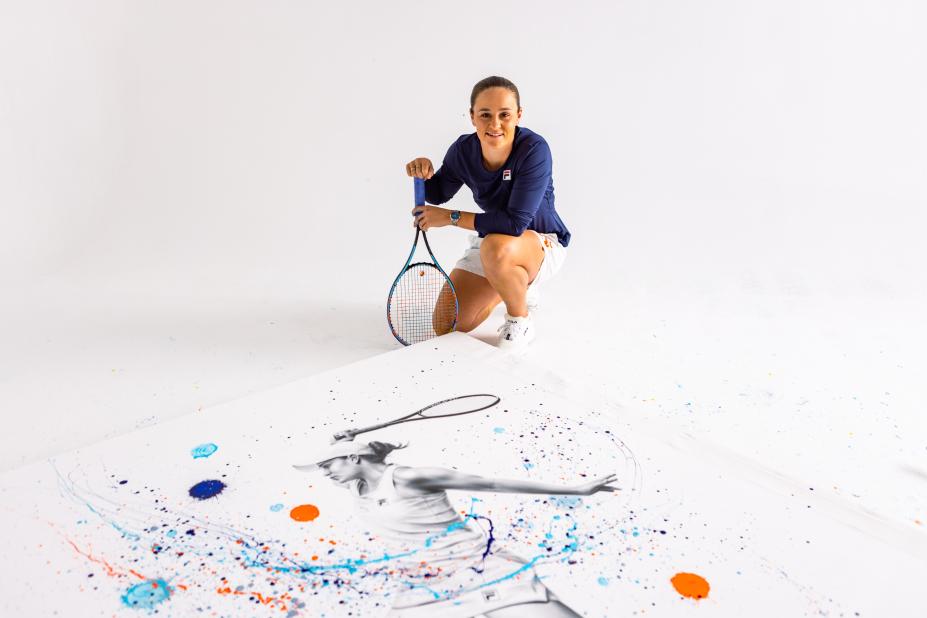 This summer, artist and athlete combine as WTA World #1 tennis player and Rado Ambassador Ash Barty joins forces with acclaimed Australian artist Ashvin Harrison to create a one-off artwork that will be auctioned for charity.
An exciting Australian painter and draftsman, Ashvin's work has featured in exhibitions and publications nationally. His pieces are composed with an interesting balance of monochrome structures next to colorful details that represent the complexities of human emotion and connection. In this collaboration, Ash, under the guidance of Ashvin, contributes the colour and energy to the final work by hitting paint-laden tennis balls at the canvas to complement Ashvin's monochrome structure.
The art-for-charity project is initiated by Swiss watchmaker Rado who, in partnership with internationally renowned online art gallery Singulart, will auction the vibrant final artwork, the tennis balls and racquet used in its creation and a limited edition Rado HyperChrome Ash Barty timepiece. All proceeds will be donated to the Make-A-Wish® Australia to help grant wishes for children with critical illness. It is their mission to grant the wish of every eligible child - a quest sparked by the belief that a wish is integral to a child's treatment.
Rado CEO Adrian Bosshard is excited to see the final artwork and is looking forward to the artwork being auctioned. "Art and design is in the DNA of the Rado brand. To combine the talent of our ambassador Ash, and the creativity of Ashvin with the design ethos of Rado is a once in a lifetime opportunity. We are proud to be part of this project and look forward to seeing an excellent auction result for the Make-A-Wish." Mr. Bosshard said.