TRUE X GREAT GARDENS OF THE WORLD
The new line, aptly named the Rado True x Great Gardens of the World collection.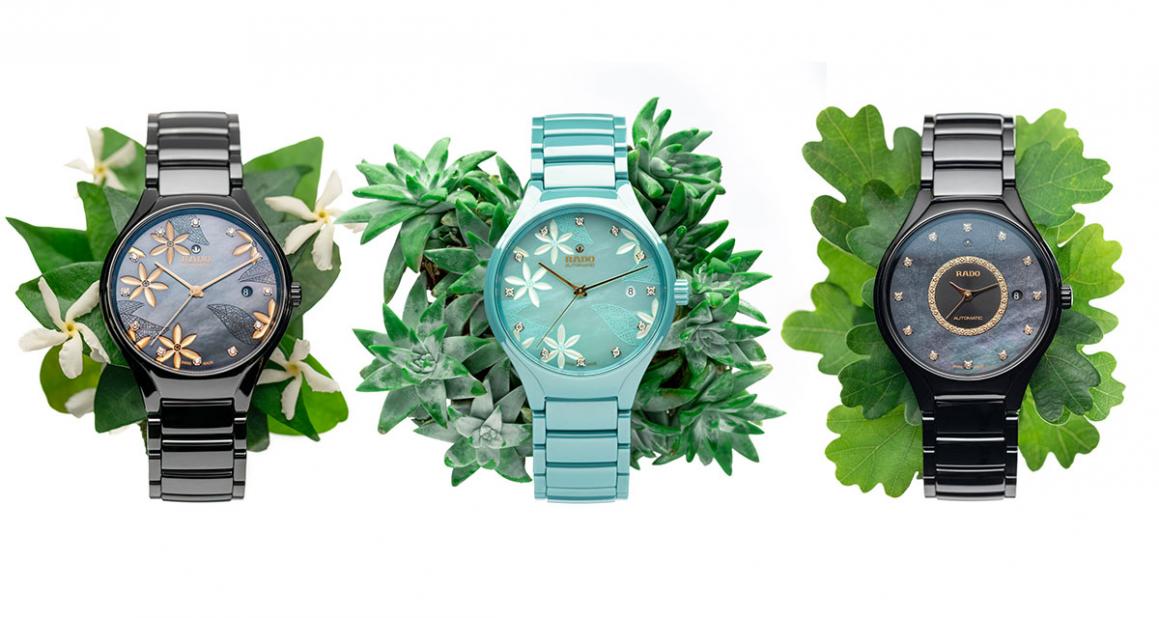 Timeless Nature, an eternal design
The wild spontaneity of Nature — its organic, sometimes dramatic forms, textures and colours, have forever kindled human creativity. Nature's majesty and power over us all has shaped the human psyche through the ages, with that potent mixture of awe and respect that feeds the highest creative process. Painters, sculptors, composers, gardeners and yes, watchmakers, were never immune from Nature's nearmagical input in defining who we are and how we express ourselves.
When Rado confirmed their partnership with Grandi Giardini Italiani in 2017, a delightful occasion arose, to bring together their shared interest in design, beauty and nature at its best. For the two, arriving at these values from quite different directions provided new possibilities, a broader, richer outlook of great creative energy. The positive atmosphere of those early contacts sparked a new collection: the Rado True Thinline Nature. In the years since, the product has matured and is now — dare we say — in full bloom, with three new models celebrating exceptional design, eternal nature and futuristic materials, in equal measure. The new line, aptly named the Rado True x Great Gardens of the World collection, undeniably represents a stunning achievement of great subtlety and harmony, obvious at very first glance. Oak leaves share a whisper of the grand and glorious power of nature and her place in eternity, while a heady scent of jasmine enchant us into new places of fabulous surprise and sensuality.
The first in the series or "Chapter 1" is a gorgeous and inspired timepiece, with a case and bracelet in turquoise ceramic, that timeless substance which speaks to many senses at once. Cradled in that smooth and luminous monobloc case is a mother-of-pearl dial of matching shade, with fine decorations in beautifully complementary technics, filigree and cloisonné-style organic elements with nature-inspired motifs and jasmine flowers, unobstructed behind the rose-gold coloured hands. At each index, a Top Wesselton diamond adds delicate notes of brilliance to the dial, behind a sapphire crystal with antireflective coating on both faces. The case back, in titanium, carries a smoked sapphire crystal window that allows admiring glimpses at the Rado calibre R763 movement, a marvellous piece of technology in itself.
The second model or "Chapter 2" wears a more mysterious air, like music in an evening forest or an enchanted midnight visit with a special friend. Black high-tech ceramic case, matching mother-of-pearl dial with bright jasmine flowers, rose-gold coloured hands and a Top Wesselton diamond at each index — sparkling joy under midnight sky. On the underside, a black PVD-coated titanium back with a smoked sapphire crystal, for the curious or the introspective wearer. Inside the timepiece, the same Rado calibre R763 movement as found in the other versions, equipped with a NivachronTM antimagnetic hairspring, for the same exceptional protection and accuracy.
"Chapter 3" wears its own enigma and sophistication, possibly in slightly more luxurious surroundings, maybe in an urban setting. Witness to a proud and confident walk between a lovely dinner, the sacred gardens and the concert hall, its sparkling diamonds and the deep night reflected upon its mother-of-pearl dial, carry a statement of great achievement with more yet to come. The finely engraved oak leaf patterns speak of Nature's vital place in human existence. The hand gently brushes against the cool and smooth ceramic case, a timeless delight and a clear reminder of humanity's capacity for innovation, charm and eternal adaptation.
Indeed, the Great Gardens of the World are an enduring testimonial of the power of human creativity and bold, unrelenting survival instincts — through the ages, at times challenged but ever healed by care and courage, often by human hand. The same hand that masterfully shapes, sculpts and carves, every tiny part that becomes a magnificent timepiece, or a fabulous, inspiring garden.
About Great Gardens of the World
In most countries, since time immemorial, gardens have been commissioned by kings, popes, sultans and industrial leaders, and used as showcases of their good taste, power and presumed authority over nature. It was only in the late 19th century that gardens began to open up and be considered for community use, and nature itself appreciated as a vital element of our existence, here on this small blue planet. In recent times, gardens have become a kind of modern agora, where people meet and mix, and some of the best designs are often funded by private or public foundations.
It was therefore natural, quite literally, for a future-thinking brand such as Rado to build a bond with the Great Gardens of the World organisation. The journey began in 2017 with Grandi Giardini Italiani and now, the group includes sites and institutions in numerous countries, often featuring some of the world's best landscape designers. Our special thanks to them, for sharing their creativity and vision with the rest of the world, and equal thanks to the Great Gardens of the World organisation, for their unwavering contribution to the human experience, in ways that are, all at once, spiritual, organic and magnificently visual.
Images
Press releases
Q&A